MORTUARY & CREMATION SUPPLIES
We've Expanded Our Inventory!
Portland Cremation Center is proud to expand our offerings of cremation and mortuary supplies. We have worked to find a source to help keep our supply costs down in this challenging economic climate and now we would like to pass this opportunity on to you!

The following supplies are readily available now! Contact us toll-free at 866-665-4202 or, if you are in the local calling area, at 503-665-4200...we will gladly submit a bid to you.
Cremation Trays: 75" x 21" x 8"
51 ECT DW K PL

Tyvek Toe Tags: 5-1/4" x 2-5/8"
White or Yellow Toe Tags
1000 Count, Custom Funeral
Home Name Imprint Available

Cremation Rollers: 1-1/2" x 18"
.250 Plain Tray Rollers

Plastic Rolls: 108" x 33" 4 mil
Poly Vinyl Acetate
White, 80 RL
(Blue plastic also available for larger cases)

Biodegradable Scattering Urn

White RSC:
6" x 6" x 6" 32 ECT
5 " x 5" x 5" 32 ECT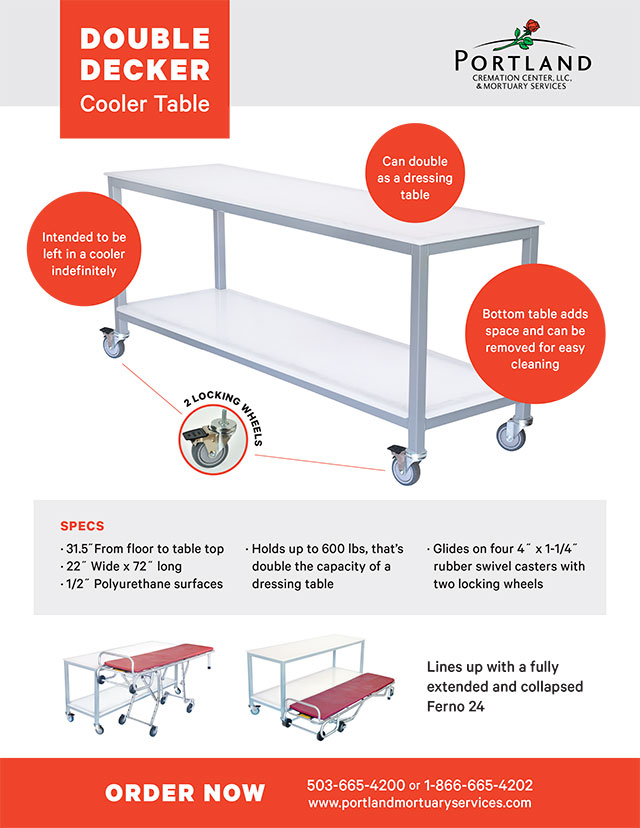 First Call Pouches and Cot Covers are available directly from Kanga-Woo

Portland Cremation Center, LLC, & Mortuary Services
17819 NE Riverside Parkway, Suite A,
Portland, Oregon 97230-7377


Phone: 503 665-4200, or toll free at 866-665-4202
Fax: 503 665-4220
Contact us online: Contact Us



4% Convenience Fee Charged on all Credit Card Transactions
Cremation Association of North America | OFDA Trade Only